---

---
I can't believe I'm glad the weekend's over!
Hope it's been a good weekend for everybody. Mine was kinda rough. It started off on a very high note with yet another viewing of SGA's "Doppelganger", which aside from some really odd OOC moments (since when does Rodney fear whales?) is quite possibly my favourite episode of the entire series. And that's saying a lot. Of course there are only the two of them in Shepherd's dream ... as if we didn't already know that.

Then yesterday was all aflutter with the news from JKR that Dumbles is a Big Gay Wizard. I'm a little surprised to see that some people are embracing this news with glee, thinking it'll spark a flurry of Dumbles/Grindy slash. My thought is that if you like that pairing, then write it -- regardless of whether JKR says it's okay or not. It's fanfic, after all!

My personal opinion on all this? I just really wish the woman would shut up. I think she's damaging her work and the whole notion of artistic integrity by going on like this. What's surprised me are the people argue that she had so much backstory that she has to spill it out like this (sorry, but no -- of course not every bit of her backstory can be written, but enough should come out to push the reader's mind in a certain direction. Like she did with the idea that Harry would be an Auror. Like she failed utterly to do in hitching up Neville and Hannah Abbott. She can't go back and fill in the blanks later). I've seen others who think we should just give her a break because gee weren't her books great (sorry, but a BIG no -- she should be held to the same standard as any other author is).

But for the most part, it seems my HP f-list is being pretty sane. And I haven't seen anybody proclaiming that this is a great step forward for gay rights or anything like that. Although that's certainly the impression you'd get from reading the non-HP portion of my f-list. Frankly, I'm a bit tired of people assuming that all HP fans think this is the greatest thing since sliced bread and telling us how we really should think about this issue. For every HP fan saying it's great news, there's another crying foul -- not just to this, but to every ditzy, contradictory pronouncement she's made since finishing the book.

I guess I'm feeling a little defensive today after my entire LJ f-list (where most of the non-HP folks still reside) decided to attack my newly adopted fandom because aren't we all just one homogeneous mass of JKR worshippers.

Sorry for the rant there. I have lots more to say about more of the ludicrous things she "revealed" in that interview (if you're interested, here's a transcription: Part 1 and Part 2) but I'll spare you. All I can say is I'll have what she's having.

Now, when I tell you that I've immersing myself in fandom to avoid the RL craziness that is my family, you'll understand just how bad things really are. :(

Finally, at 11:00 p.m. I'm starting to unwind. This picture helped immensely: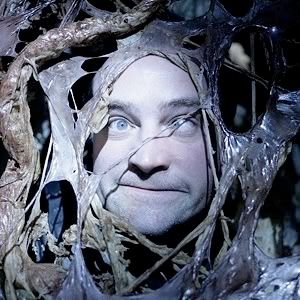 from LJ's verav
And I posted
Chapter Six
of
Architects of Memory
, right on schedule. Not sure if I can keep up this pace, work's picking up drastically, but I'll do my best.
Now it's time to sink into
Farscape
and knitting, and brace myself for Monday.
---
---
[ Home | Update Journal | Login/Logout | Search | Browse Options | Site Map ]