You've got to be kidding...
HBPmoviepics
has new pictures of, obviously,
HBP
. Some of them are pretty cool.
And then there's Narcissa...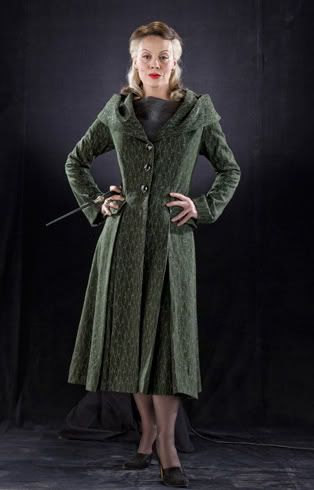 I can't tell you how disappointed I am with her "gown" -- I had so wanted to see some elegant witch couture, and instead they give us this? And what's with the two-tone hair? Fugly with a capital F.
I don't get it. Narcissa is supposed to be beautiful and refined -- I always pictured either Naomi Watts or Nicole Kidman a la
The Golden Compass
. Not ... this. She looks like McGonagall's long lost twin. (And yeah, yeah, I know Helen McCrory is a good actress, but it's going to take an Oscar-winning performance to overcome this travesty.)
Lucius is so much prettier!
On a happier note, I watched
The Edge of Love
tonight. I really enjoyed it. Matthew Rhys did an amazing job as Dylan Thomas, Keira and Sienna had a lovely friendship (and yes, I could easily see some femslash there), and Cillian ...