Sunday stuff
Well, I do know, I'm shite at keeping up with RL people in my life. In fandom I'll spam you 20 times a day and love every minute of it, but talking (especially on the phone, I hate phones!) about family and children and blah blah blah ... I'd rather have Sylar feast on my brains.
But tonight? Tonight was fun.
Today was also fun. Ingo arrived -- my lovely little EEE PC. He's so very wee!! I inaugurated him with 3000 words of rimming fic (how is that even possible?) just to show him what he's gotten himself into. Sadly, the pr0n is not finished. I am
so
friggin'
close
, like a paragraph away, but it's an elusive paragraph that refuses to be typed tonight.
I was also distracted a lot by my animals, who were being excessively crazy. Molly especially liked getting acquainted with Ingo. Apparently nobody's welcome in our home until they're covered with fur.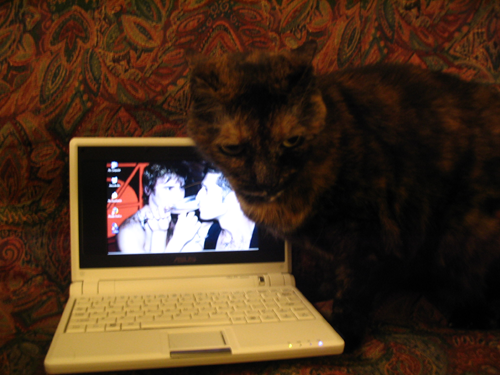 So tomorrow, smut will be posted, no matter what. I might have a day free from work too. Client who emailed me saying she'd send stuff over the weekend has flaked (again) ... which just means rush charges down the line!
I'll leave you with a laugh from
AfterElton
:
How to code Dumbledore queer
. My favourite: Patronus spitting image of porn superstar Jeff Stryker.
So this is kind of cool: my cousin who I haven't heard from in nearly 15 years found me through my company's website and left a message. We played phone tag a bit, and he finally caught up with me tonight -- and we spent over an hour on the phone. He's raising alpacas and angora sheep (!!!), his new wife is a spinner and weaver, and his daughter (who was a kidlet when I saw her last) is graduated from college and working on an organic farm in Argentina. Why haven't I kept up with him?!