for the next month. I know I've got some new friends at IJ *cuddles you all* and if you can at all afford it, this is a very good deal. *cuddles my 500 icons*
Public Service Announcement #2: Speaking of things that must be purchased despite being unreasonably outrageously priced: the
con FINALLY got their website up and running. Looks like all the DeRo-centric stuff is scheduled for Saturday; I'd love to try to swing the VIP ticket, seeing as it's for charity and all, but it'll be tight. And to be honest, the other stuff doesn't appeal. (Brunch? Do I really want to see these people in the morning... or have them see me before I've downed a bucket of coffee?
can verify that it ain't pretty.) But there will be an EKP kinda thingy there during some of the free time, and we will have to get our "AWZ: This show's not for wimps" t-shirts.
and I are rewatching DeRo v.1 together, and I haz thoughts...
It is still so very hard to see DeVa as a planned romance, although supposedly it was -- and it fits the well-worn groove: new person comes to town, has brief fling with someone, finds OTP. If that was truly intended for DeVa, and DeRo was just a crazy random happenstance, then they got so bloody lucky with all the seeds that were planted for DeRo 2.0. (Of course that means they wasted a lot of time and effort on amazing coming-out story too, but whatevs.) I know there were other factors involved and the way it came off was not as originally planned. Nonetheless, my point is that DeVa as a friendship was so sound and solid, and had it been kept at that level the story would have succeeded (although I have no doubt that DeRo would have fallen apart for other painfully clear reasons). Instead, both Roman and Vanessa became ugly and petty and jealous -- pretty much character assassination all around, though the actors did a helluva job of escaping with some integrity.
The reason I bring up this not-so-startling observation is because there's now talk of Katja, the new girl who's coming to Essen next week.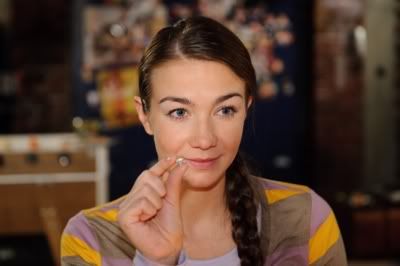 We love Katja. Seriously, madly, adoringly love Katja. Even more so because we spent ages talking to the lovely actress, Anna-Katharina Samsel, who was the sweetest, bubbliest, and quite possibly the sparkliest thing in fictional Essen, and could not quite manage to break it to her that we probably would not be covering her storylines because, well, she's not a Gay Boy With Issues. So imagine our delight when we heard that she and Deniz were going to become BFFs to help her win the heart of her love interest, the incredibly-sexy-but-sadly-not-gay Ben: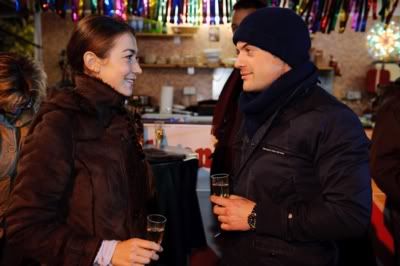 OMG could they
be
any cuter? Oh wait, they could: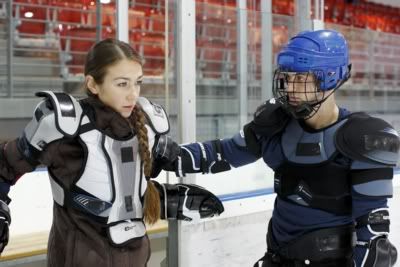 That's right. Katja plays hockey. (And the actress can really skate too, which I know should not be a surprise on a show about ice skaters, but HALLO?) And we'll get to cover it!! So yeah, there is love all around, not least in imagining Deniz offering dating tips to someone. ("Well, first you need to nose in on his photoshoot. Then you get him to sign a contract with contractually obligated touching. Don't worry, he won't read the fine print. Candlelit dinners are good, too -- just don't let the cameraman blow you afterwards. Yeah, probably not the best idea.")
So I'm totally digging this scenario, right? And then Aldi goes and says, "Yeah, people are already comparing DeKa to DeVa."
*THUD*
ETA: To forestall panic, this is just spoilery talk on German boards. THIS IS NOT OFFICIAL! I HONESTLY DOUBT IT WILL HAPPEN! I JUST LIKE TO TORTURE MYSELF, OKAY? THAT'S WHY I WATCH AWZ AFTER ALL!

And now, back to our regularly scheduled programming...
Everyone knows that's a bad idea, right? They do, they must, they have to. They do know that Igor's got off-the-charts chemistry with his male cast members but flails in het relationships. (Except with Julia, when, as Aldi pointed out, he had chemistry with the money she was paying him.) And they've got to realise that not all relationships are sexually driven -- despite our flagrant shipping.
And most of all, they've got to see that, cute as Katja is, she just cannot compete with this: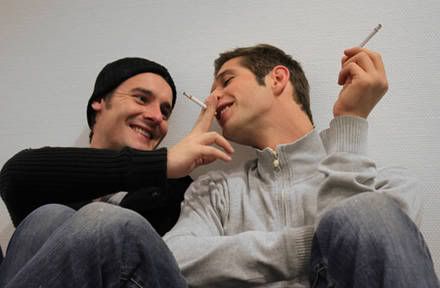 But then, then my mind went in the other direction and now I can't get it out of my head that I
hope
Deniz is attracted to Katja, and she to him, and that Roman won't freak out (much), so long as he will STFU and not make assumptions about what Deniz thinks but will actually listen when he tells him that it's not a threat to their relationship to bring her into it, and that I hope Katja will be blushing and curious and daring, and look longingly at the sling, and the three of them will have this gorgeous polyamorous affair that will just be too sparkly for the pixels to contain.
Or hell, if Katja's still into Ben, she could bring him along. Surely in Milan he learned a thing or two...
Yes. This is why I am not getting ANY work done this evening.
Also, this picture cracks me up: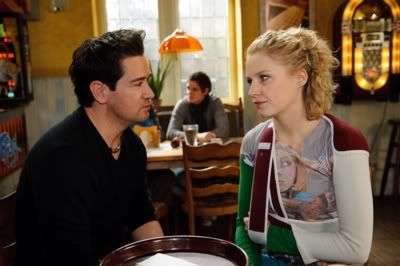 Marian: Muffin, when Lars suggested spicing things up with a sling, I don't think that's what he meant.
Stella: *non-emotive stare of blankness*
And now? Now an intervention is required before I set out to make an AWZ moodtheme. Somebody handcuff me to my laptop and make me work, please!