A Bubble of Love: GOOL Trip Report
The weekend was fabulous, excruciating, brilliant, and exhausting. I wouldn't trade a minute of it. Okay, that's a lie, if you read my trip report you'll see quite a few minutes I'd trade. But even so, I cannot imagine a more incredible time!
Thursday
I'm in New York! Except not, because I flew into Newark. But after figuring out NJ Transit I made it to Penn Station and my designated meeting spot with Aldi. Except not, because on the online map there was one Lost & Found area; in actuality there are three, in different corners and even different floors of Penn Station. So after spending 45 minutes running from one to the next, I played the dumb foreigner card and got Aldi paged to the info booth. Cuddles all around, then a race to our hotel where we met Shirley, the incredible, unstoppable woman who put this whole thing together, and Patricia, the organiser who came all the way from the Netherlands and was just adorable. Then we dashed off to
Madame X
to set up the video equipment for the next night, and were blown away by the gorgeous tackiness of the place—red velvet, animal print bean bags, gold embossed lampshades, absolutely perfect for our crew!
Then it was off the EKP party at the Swift Bar. Wow! Walking into a bar and seeing a crowd of people wearing Eskimo Kiss shirts is such a surreal experience! So many wonderful people there—Keith and
amilee123
and Shanna and
antiteb
and Sarah and Jules! (and even Beth for far too short a time) and
amyriadfthings
and
geekchick1013
and Emilee and Ana and Davina and I know I'm forgetting lots of people but they were all completely lovely. We spent the night swapping names and hometowns and stories of our obsessions, raising our glasses to toast "and Stella is gone" many times, and having an all-around sparkly night.
Friday
The day kicked off with hugs and squeals when
spaghettitoes
,
wildepet
,
redcouchaddict
, and
amyriadfthings
arrived at the hotel. SQUEEE!! We plopped down in a café for buckets of life-giving coffee and repeated "this is so surreal" about a million times. Then back to the hotel to stuff gift bags for the boys (including condoms and lube galore!), record our first video report, and get beautified for that night's event.
I missed the first part of the evening because I was collecting the boys at JFK. Felix arrived first—he was so cute when he came out of the gate that I seriously felt like a fangirl. But we talked a bit and he was really nice, although he kept looking at me very oddly—finally I realised it was because I was dressed really trashy, and I explained that it was for the event. (I think at that point he was wondering what kind of event he'd gotten signed up for!) Before too long our boys came wandering out and there were huge tacklehugs all around. Dennis admired the trashy mod of my t-shirt and how to do one for him and we talked of DRAMATIC IRONY. Igor was truly in puppy mode; he kept thanking me and saying what a huge thing it was to be in New York. He bounced into the front seat of the van and literally pressed his nose to the window as we drove into the city. I sat in the backseat, holding hands with Dennis and forcefeeding plot ideas to Tom Chroust. BLISS.
After a quick stop at the hotel, we raced to Madame X. This is where the fun really started. I'd put together "show reels" that Aldi was playing as each person was introduced. For
AWZ
, it was simply the perfection of ep772. When we arrived, the clip was almost at the end—Deniz was rejecting Simone's offer of a substitute skating partner. So the boys hustled up the stairs and, as the first bars of "Unzertrennlich" began, they walked into the room. Man. I was standing in the stairwell and the place was
shaking
. I don't think anybody expected that kind of reaction—and while I'm sure that the others got a great reception as well, I've heard tell that it was eclipsed by our boys' entrance. :)
Much mingling followed, I got to meet more Eskimos (yay!), Sascha (the Grundy UFA cameradude), and Jo and Thore briefly. Then it was time for Aldi and me to introduce the GOOL Video Awards, which, um, yeah. I am still thanking my lucky stars that I didn't freeze up there with the mic in my hand. It came off okay, I think—all I really remember is Igor grabbing me afterwards and exclaiming, "You really kissed her!" The boys then introduced the AWZ nominees for the awards (interspersed with their own lines from the
Blu awards
) and they screamed out Shelly's name so loudly that it rocked through the hall. The four of us then snuggled while watching "The Best We Ever Had" on the big screen and wishing that Shelly was there with us.
Which seems like a good time, I think, to watch "The Best We Ever Had," Y/Y?
Aaaaah... I'll never, ever, get tired of that video!
Then Thore made fun of me on stage for mispronouncing his show (whatEVA), I talked to Sascha more about the scenes that
VL
and
AWZ
were shooting in NY, and there was much chatting with Eskimos (and met Babs and Merry who are both AWESOME!) out in the back garden as we huddled under an electric heater and sucked in smoke. BLISS.
Saturday
Breakfast, the most important meal of the day! Being surrounded by Jovan and lovely whores just made it all the better. And as if that wasn't enough, Inga gave us the paper plates featured in this fabulous video!!
Then we all traipsed down to the Stonewall Inn for the day's events. (And if we just happened to wander through a fleamarket and pick up cheap costume jewellery like magpies, well, what do you expect from people who love the shiny?)
At the Stonewall, we met the RTL reporter, who was interviewing the Eskimos with some pretty bizarre questions and asking them to pull out their acting chops, pretending they had never met and producing more squeees when they encountered the boys. I don't believe there was any shortage of squeees!
There soon was for me, though. I was so excited about this day—these Q&A panels were my baby, and I'd pretty much scared the other organisers off doing
anything
with them (except for Aldi, of course). So it was incredibly frustrating to hear, at noon, that Hal Sparks—who'd agreed to host the whole day, and been repeatedly offered any backstory/information/help he needed—had to leave at 2:30 to do his podcast. Of course, I turned to Dennis, who was a STAR as always and agreed to step in.
But once Hal started, I was actually kinda glad that he was leaving early. The first panel was supposed to be "Those German Soaps: What Makes Each One Unique"; the second was "Harmony vs. Drama" and finding the balance. I'd hoped that with a writer who'd been on two shows, along with the actors, they could talk about the differences between the shows and their different demands for conflicts and resolutions. No, both panels were renamed "Queer As Folk U.S.: Why we were so cool back in the day." And it would have just been sad except then Hal started mocking Igor's English for cheap laughs. Not cool, dude. I do hope that people enjoyed it—at least Dennis talked a lot (much to Hal's chagrin). (And no, I'm not being overprotective of Igor—that man can definitely take care of himself, I've no doubt of that. I just thought it was incredibly rude behaviour.)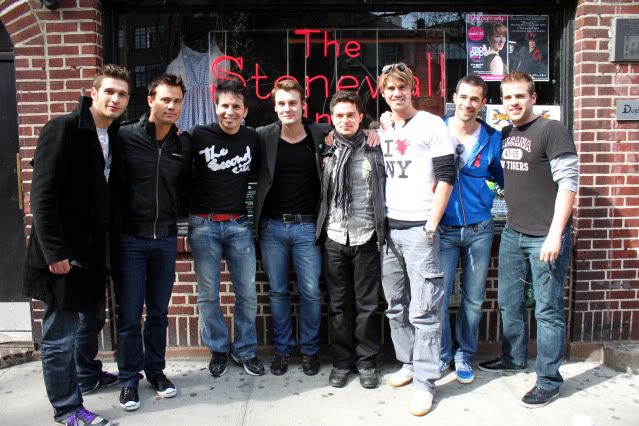 At some point in the day, the guys took this picture
Dennis hosted the next panel, and I did the one after that. (We're highly amused that, in several of the reports on GoDT, Dennis and I somehow morph into Gregory Michael lol.) I think those went better because actual audience questions were solicited. I'm withholding comment on what the others said in the panels, but I will say that OMG I'M SO GLAD WE HAVE SMART ACTORS WHO THINK ABOUT WHAT THEY'RE BRINGING TO THESE ROLES AND WHAT IT MEANS TO THE VIEWERS. Yes.
I loved the panel with Dennis and Tom Chroust, I loved the questions that people were asking about the writing, I loved that Tom has HOPEFULLY put an end to people crediting him with creating DeRo 2.0, since he admits that he was out of town at the time. (He disavows responsibility for Stella too; apparently she sprang into the story full-blown like Athena from the brow of Zeus.) And yes, okay, I confess that I've become a dirty Tom lover after hearing him talk about how they worked to push and pull with DeRo 2.0—that's one of the best paced storylines I've ever seen. It was also pretty fucking awesome when Dennis admitted to the world that he'd been reading the Eskimos' comments on ep751 to Igor, and knew then that they'd gotten it right. BLISS.
Igor was supposed to be on the next panel, but he was looking a little frayed and still hadn't been able to change any money, so I cut him loose. We left the Stonewall hoping to find one of those money exchange places that you have on every corner, but wandered for several blocks with no luck, just a lot of dirty jokes from Igor. Finally we got directions from a shopkeeper and Igor raced off into the mean streets with no money, no cellphone, just a grin and a big wave. I returned to the Stonewall thinking "I've just lost the little one!"
Got back and got the next panel started, then Aldi and I chased Dennis back to the hotel for a nap. In the few minutes before he collapsed, he gave us our presents—some really incredible personal things that they'd made for us and Shelly—that made us weep like babies. We stared at them through teary eyes for the next few hours as we got ready for the party that night.
Then it was back to the Stonewall, where everybody was so beautiful and glittery! We had a Soap Fairy, we had glowsticks, we had everybody letting their hair down, we had so much gorgeousness in one place! We had PURL for a very short time!!! We had a great DJ from Köln, we had Igor bopping like crazy (he found his way back yay!) and Felix joining the Eskimo circle, and we had so much sparkle that you would not believe!
Sunday
Sunday was the day that I wasn't supposed to be doing anything. BWAHAHAHAHA.
We got to Mustang Harry's for the brunch, but our littlest Eskimo had gone missing, so after fretting for a good while (with images of traumatic headlines running through our heads), Aldi and I traipsed back to the hotel to track her down. (Thank you,
geekchick1013
, for making the post asking where people were staying!) Mission accomplished, we returned to the restaurant, where I had half a coffee and two slices of bacon before Sascha needed me to go
back
to the hotel to upload videos for the No Hordes Left Behind. He soothed my hunger and technical difficulties with a sneak peek of something fun he's working on for
AWZ
. (You guys will love it!) Technical problems conquered, I returned to the restaurant to find that all the food and coffee were gone, I'd missed the presentation of the memory books, and the boys were not making any headway towards their shoot in Times Square.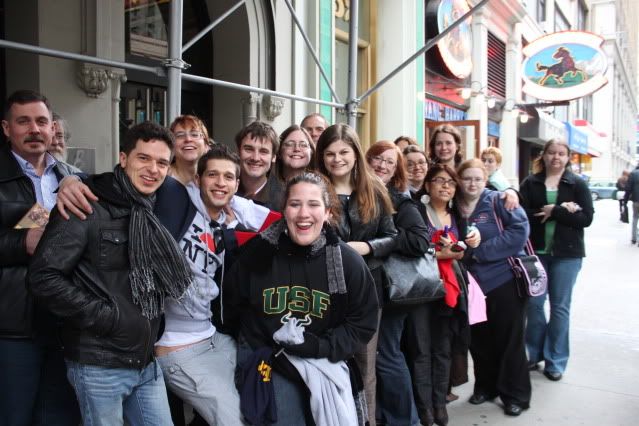 A group picture that I missed *sniff*
A complete wreck by now, after unsuccessfully trying to help move the shoot along and getting blocked at every turn, I went back to the hotel alone and waited for the others to arrive. Aldi came and offered lots of hugs. That makes everything better. :) Then we all went to the shoot. Yes, it was freezing cold; yes, it was rainy and miserable, but it was so much fun to see Igor mugging it up (in his skimpy Male Function attire) right smack in the middle of Times Square. He even caught the attention of not a few tourists (including a school group of giggly Luxembourg teens who loved him).
And tired as they were of smiling for all the cameras over the weekend, the boys agreed to do one last group shot for us all: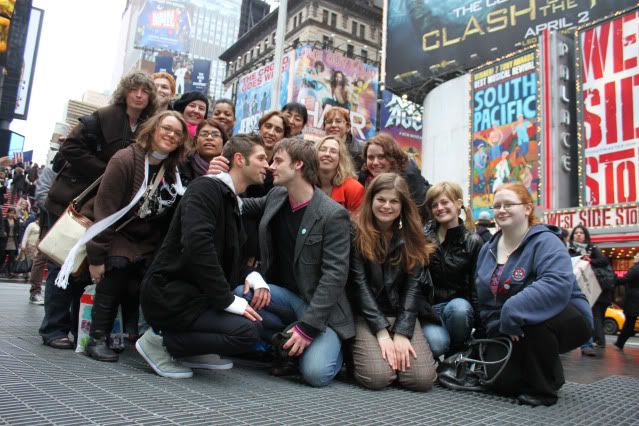 At last we headed to Central Park for the last sequence, which involved Igor running around in the freezing cold in an even skimpier Male Function tank (and looking mighty fit, if I do say so myself). We, on the other hand, huddled under a blanket and shivered.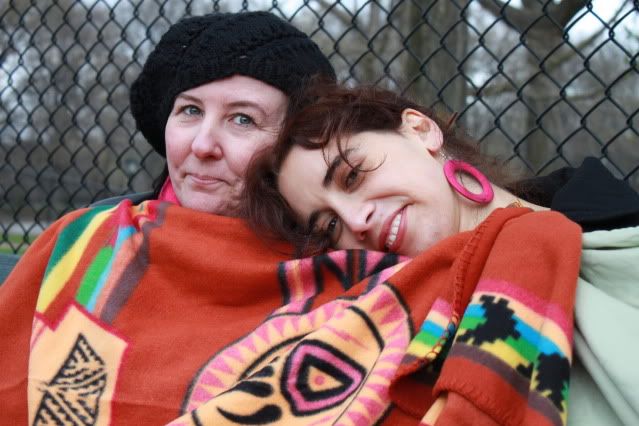 Then it was more hugs and tears as everybody said goodbye, we returned to the hotel for an orgy
of sleep
, and the weekend officially ended.
And that's where my report must end as well. Days later, I'm still overwhelmed by the sparkle. We have an amazing, amazing bunch of people in this fandom—so much so that I hear the others were a bit jealous. As they should be. :D You people are incredible, fascinating, smart, observant, caring, wickedly funny, twisted, obsessive, demanding, critical, supportive... the adjectives go on and on, and don't come close to describing just how unique and special you all are. I have never been so proud of the hordes as I was this weekend, both of the folks I met and the ones rallying at home. YOU PEOPLE ROCK SO HARD!!!
ETA:
I forgot to mention that Shirley's still working up the numbers, but it looks like between $3500-4000 was raised for our two charities, the Trevor Project and Aidshilfe Köln. RIGHT ON!!
I'M BACK!!